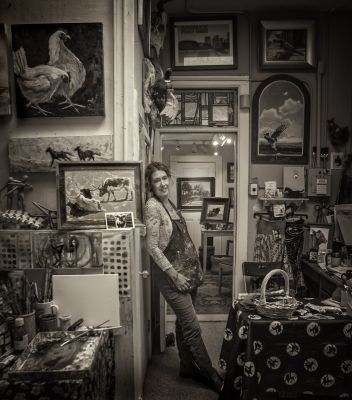 I love to paint from life. The more than 3 dimensions that are available to witness as I watch animals move through the landscape, or horses interact or the sky change is truly thrilling. It is an adrenaline rush as I try to decide which peice to capture in that one second. The changing light, movement, even the smells & soundtrack of the environment figure into the final result. If I can recreate the way one moment in time felt through my painting then I have acomplished my goal as an artist. I only ever paint subjects that I have seen personally or events that I have participated in, things I love and feel an intimacy with. I see my work as a snapshot of this particular time in our history and of my view of the west that we live in.
Susan Bell painting Silver Saddle ponies YouTube video
click here
Susan Bell painting Heifers YouTube video
click here
Susan Bell painting the National Western Stock Show Parade YouTube video
click here
---
Susan Bell is a painter of the contemporary west. A Colorado native and horsewoman she grew up recording the changing face of the west, its land and animals through art. The fleeting moments of relationship figure promentently in her work. She spends a great deal of time painting en plein air and this shows in her familiarity with movement, light and the unique personality of each of her subjects.
Her work ihas been featured in museums and collections throughout the US
COLLECTIONS

Kaiser Permanente /3 works
Denver Children's Hospital/ 3 works
Colorado Governor J. Hickenlooper
Aspect Energy /6 works
Belize Natural Energy/ 10 works
Lawrence Phipps III

RECENT EXHIBITIONS
Cheyenne Frontier Days Art show - Old West Museum - July 2015 - 2017
Douglas County Land Conservancy Plein air June 2017
Cherry Hlls Land Preserve Art show 2013-2017
Taos Art Museum - A Russian night in Taos - Aug 2015 - 2016
Art for Horses - Lakewood Cultural Center Aug -Sept 2015
NWSS Denver CO Coor Art Show 2009-2014
Denver Museum of Nature & Science - 2010-11
Paint America 100 - 2011
Salmagundi Club, NYC 2010
Birds in Art - Woodson Museum, Wausau, WI 2009
Museum of Horses in Art - Lexington, KY 2009-2011
MASTERS OF THE FOXHOUNDS 100 years-Traveling exhibition
Dog & Pony Show – Arvada Center for the Arts
Wildlife Experience Museum - Equine Artists
Denver Art Museum -Impressions of Denver
Artists of Colorado - COLO
PUBLICATIONS
Ex Art Equinus - 2012
Illustrator - MY Name is JAKE - 2012
Birds in Art - Woodson Art Museum - 2009
Illustrator - Denver Magazine 2008 -2010
HGTV- Oct 2006 – April 2007-8
Western Horseman- artists to watch - July 2004
SouthWestArt – Western Artists – March 2003
Horse Connection – Featured Artist – Jan 2004
Better Homes and Gardens – Fall 1997
GALLERY REPRESENTATION
Joe Wade Fine Art – Sante Fe, NM
Snake River - Jackson, WY
Deselm's Fine Art - Cheyenne WY
Rich Designs - Colorado Springs, CO
Framed Image - Denver, CO
Steamboat Springs Art Museum - Steamboat, CO